The Lisson Grove Experience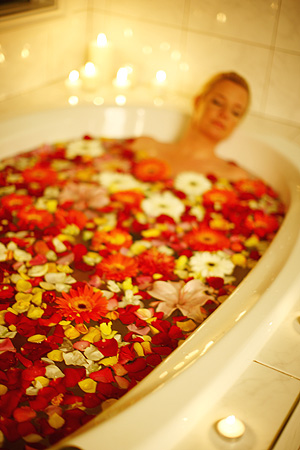 The team at Lisson Grove Boutique Resort have one common aim – to spoil you in every possible way! Whether it's the superb accommodation itself or the discrete service always available to take care of even your smallest whim. The numerous Awards for Best Luxury Accommodation are evidence of this.
This Boutique Resort, is hidden on top of Tamborine Mountain in the Gold Coast hinterland, just one hour's drive from either Brisbane or Gold Coast. It is located opposite Queensland's oldest National Park, offering superb views over the sun drenched evergreen valley below.
The private and exclusive accommodation is cottage style, each catering for only two guests. The cottages offer the ultimate in luxury with open log fireplaces, spa baths, air-conditioning and the décor is exceptional.
Upon arrival, you are personally welcomed with a happy smile and personally escorted to your cottage. Next morning, your day begins with chirping birds and a surprise of either a hot mouth-watering gourmet loaf of bread or croissants and fresh orang
e juice delivered to your cottage door. If your tastebuds command more than a platter of self-cook breakfast treats can be found fresh in the fridge along with tea and coffee selections also found in your cottage. A complimentary daily cottage service is available if required, although many guests choose not to be disturbed preferring to lap up the luxurious privacy of their surroundings.
Lisson Grove has now opened its doors to its latest accommodation, The Castle is a luxurious dual winged Scottish Castle, complete with a private day spa.
Lisson Grove luxury boutique resort certainly offers you choices for a unique escape you will remember always.
The Abbey Cottage
A church IT never was - but unique it certainly is!
With its high peaked ceilings painted to resemble clouds and a fabulous loft bedroom.
Designed with décor purely for the perfect romantic escape. A honeymooner's delight!
Luxury Cottages
An atmosphere all of its own. Luxury Cottages have King Size Beds and your own Webber BBQ! These cottages are unique, fresh and individual in luxury and styling adding a real spark to any romantic getaway these cottages provide a warm cosy surrounding for a magical escape.
Premium Cottage
Each Premium Cottage has a magnificent fireplace large spa and Luxurious furnishings.
Traditionally English, from the moment you arrive, you'd swear you were in "Old England".
Once inside, you'll be overawed by a sense of luxury.